Coron and the towns of Culion and Busuanga provide tourists with distinct destinations that are beautiful in their own ways. If you just want to get to any place in town, a tricycle can take you for just about P10.
If you plan to explore the different islands and Coron's most famous attractions, you can do it by private or joiner tour.
GROUP TOURS. If you are traveling alone or just two people, this is an ideal option because you'll share costs with others. These are easy to find; some accommodations will offer packages or the many travel agencies in town.
Advantages: Once booked, you don't have to stress yourself about the itinerary, food, and transportation. All you need to do is pay before the day of the trip. You also get to meet other travelers, whether foreign or local.
Disadvantages: The itinerary is set and the guide will determine the time spent at each destination.
PRIVATE BOAT. For those who want more control over their itinerary, a private tour is the best option. The first thing you need to do is go to the Calamian Tourist Boat Association to book a boat. You can find their office near Lualhati Park. There are standardized rates that depend on boat size, attractions included and the number of passengers.
A private tour can be cheaper if you're a big group of friends or family. We'll use the Coron Island Tour as an example:
P2000 for a boat that accommodates 2-4 people
P2500 for a boat for 5-8 passengers
P3000 for a big boat for 9-15 persons
You'll save more money, if you're group is more than 10.
Advantages: The guide and boatman will suggest an itinerary, but you have full control of what you want to do and how long you will stay. You can customize, and add or remove places during your trip. Large groups will save more money compared to joining a group tour.
Disadvantages: The rates listed are only for the boat. The guide fee (P500), entrance fees per stop and food aren't included. Bring cash to pay for everything and buy food and drinks for your trip. The boatmen and guides can buy the ingredients for the meals for you.
The tours listed below are some of the most well-known in Coron; the trips cover the famous spots. The inclusions may vary so discuss with your chosen operator about food, snorkeling gear or other things you may need the day you book your excursion. The rates displayed are based on March 2017 prices these may change depending on the travel agency.
You can see links below that direct to Klook tours in Coron. However, booking through third-party sites tend to be more expensive compared to booking on the spot. We would recommend looking for tour packages on the island during your trip as these don't add an extra layer of fees. But if you've been booking with Klook and other sites before and are satisfied with their service, don't let us stop you.
If you want to get a private tour or DIY, the rates and fees are in the photo caption. For those joining a group tour, you don't have to pay extra for attractions as these are already part of the package you got.
Coron Island Tour
Joiner Tour: P1,500-P1,800 per person (all inclusive)
Charted Boat: P12,000 for 2-4 persons; P2,500 for 8 persons; P3,000 for groups of 9-15 persons
➡️ CHECK UPDATED RATES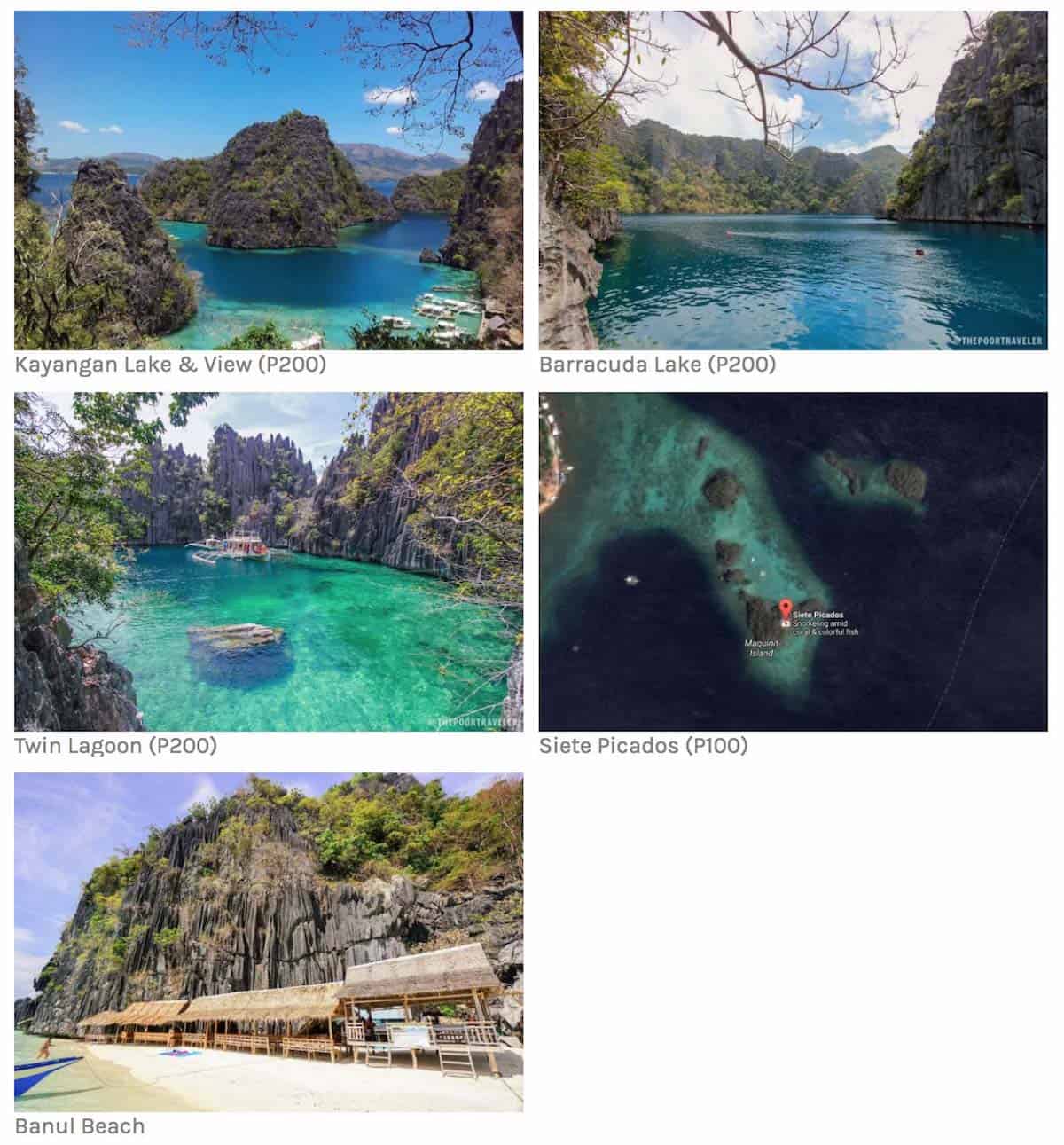 This is the tour you'll most likely do during your trip; joining a tour group costs about P1500 to P1800. However, if you look for more operators around town, you might even find one that offers the Coron Island Tour for just P750! BUT, there is a huge price gap because the cheaper alternatives don't include Twin Lagoon and Kayangan Lake in the same itinerary. Some travel agencies include one or the other and add other destinations nearby.
The lake and the lagoon are two of the best attractions in Palawan (not just in Coron). The former is the iconic picture you'll find online whenever you make a quick search. The latter has emerald, glass-like waters that are so clear you wouldn't know how deep the water really is. If you don't have much time, get the tour that includes both, even if you have to pay more.
The other attractions included in the itinerary aren't so bad either. The coral garden and Siete Pecados Marine Park are good places to snorkel and free dive up to a certain depth. You'll get to see a part of Palawan's vibrant underwater ecosystem. The multi-colored corals come in various shapes and sizes, and you'll also see different fish species. The beaches have fine white sand and clear turquoise waters. Laze on the beach and cool off by wading or swimming before heading back to town or onward to your next stop.
You won't regret paying more to include the best sites in one itinerary. You may end up paying the same amount (total) if you book two different tours on separate days to see either Kayangan Lake or Twin Lagoons. If you're vegetarian, tell the operator the day before your trip so that they can order food for you.
Joiner Tour: P550+ per person
➡️ CHECK UPDATED RATES

One of the highlights of the Coron town tour is Mt. Tapyas; the latter is a fixture of the town's landscape. It towers over its surroundings at 210m high; those who aren't outdoorsy don't have to fret. There are more than 700 concrete steps that lead all the way to the peak. There are many paved decks with some chairs to sit on whenever you stop to rest. Some locals dash up to the top and down again for exercise; you can do the same if you're a fitness buff.
The cross at the top is another distinguishing feature of the mountain. Mt. Tapyas is also the best place to watch either the sunset or sunrise; the golden rays of the sun will turn the blue skies into a haze of orange then into a sharp red.
It is possible to get to Mt. Tapyas without booking a tour, you can charter a tricycle to take you or walk all the way.
Another noteworthy destination included in the town tour is Maquinit Hot Springs. The latter is the perfect place to relax and unwind after exploring the nearby islands or going up and down Mt. Tapyas. The hot waters revitalize and rejuvenate your tired body. This destination is quite far and may take half an hour by tricycle from the town center. If you just want to go to the hot springs, a tricycle can take you for about P350 round trip. There is also an entrance fee of P150/person.
The itinerary may include some souvenir shops, discuss with the operator about inclusions and stops for your trip. You don't have to book a tour to explore the town, you can visit places on your own by chartering a tricycle or even walking to some places. Maquinit Hot Springs is the furthest destination; you'd have to rent a motorcycle or trike to get there, unless you want to walk for a long time.
---
Calauit Safari Park Tour
Joiner Tour: P2,500-P3,000/person
Private Tour: P8,000 for 2-4 persons; P9,000 for 5-8 persons; P15,000 for 15 persons
➡️ CHECK UPDATED RATES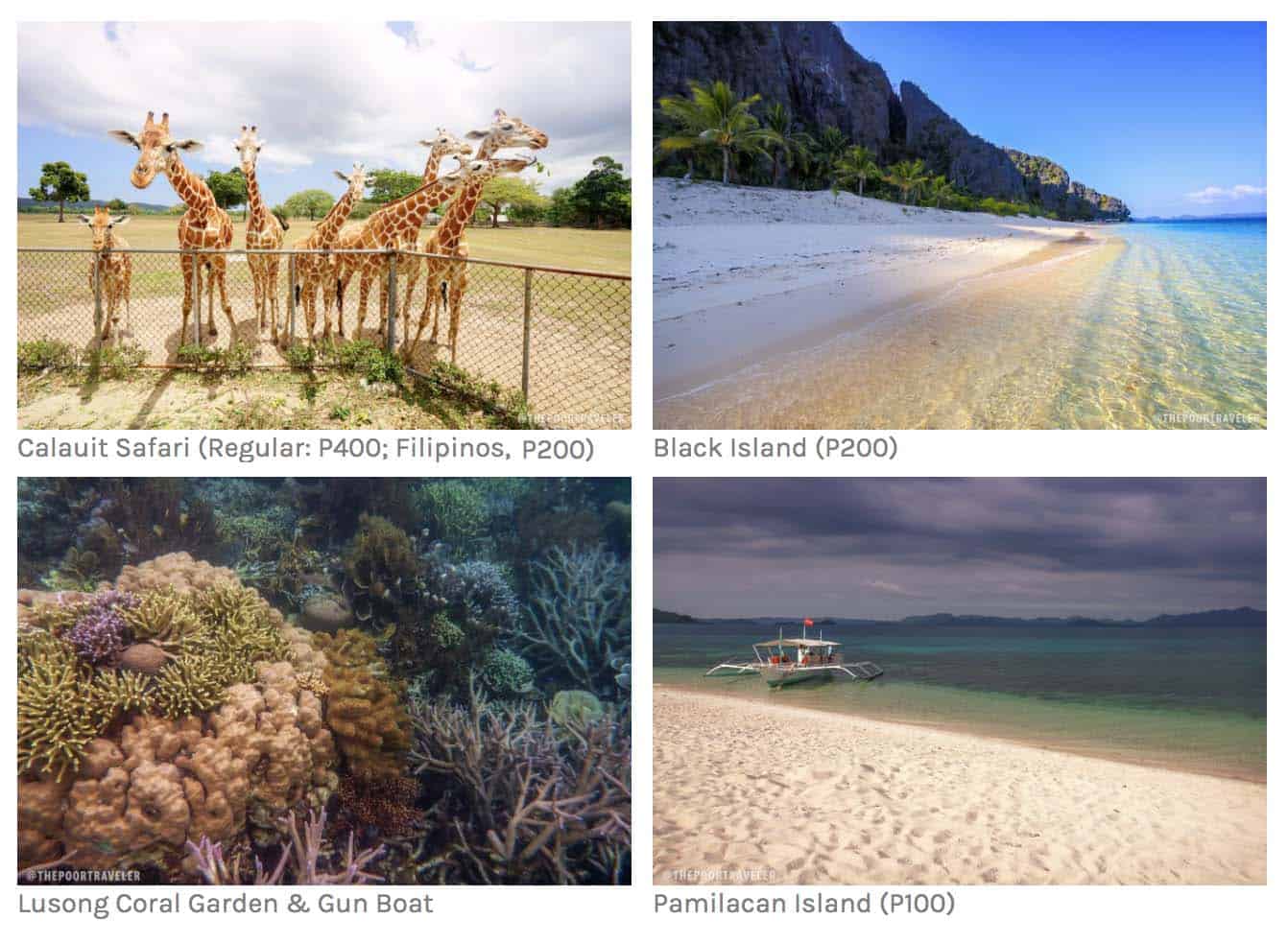 If you join a tour, you can go by land or sea.
If you go by boat, here are the places you'll go to:
Calauit Safari Park
Black Island
Lusong Coral Garden and Gun Boat Wreck
Pamilacan Island
Other stops: North Cay, South Cay
We recommend taking the boat tour over the land trip. Black or Dibutunay Island are often not included in the land tour. Both have fine white sand and clear turquoise waters. The idyllic backdrop of both is perfect for beach bummers who want to forget the stress of work and the hustle and bustle of the city.
If you choose to go by land, the itinerary will consist of 2 – 4 places listed below; however, it will depend on the operator you booked with. Review the inclusions first before booking:
Calauit Safari Park
Concepcion Falls
Malbato Chapel
North/South Cay
Pamilacan Island
Lusong Coral Garden and Gun Boat Wreck
Whether you take the boat or land tour, a trip to Calauit is worth the money and the time it takes to go there. The safari may not be the same as in Africa, but it still provides you with a unique experience. You'll see and maybe even get a chance to feed giraffes, watch zebras, and see the distinct landscape that has allowed such animals to survive in a country like the Philippines.
The coral garden offers you a glimpse of the underwater beauty of Coron. You'll see various corals and fish swimming about if you go snorkeling.
If you want to use Klook for this tour, the attractions include in the itinerary are the safari and North Cay or Pamilacan Island. We've been to both of the last two mentioned, and we were more impressed with Black Island. You're better off going to the latter.
---
Culion Historical Tour
Group Tour: P1,300 per person
Private Boat: P3,500 for 2-4 persons; P4,000 for 5-8 persons; P6,000 for 9-15 persons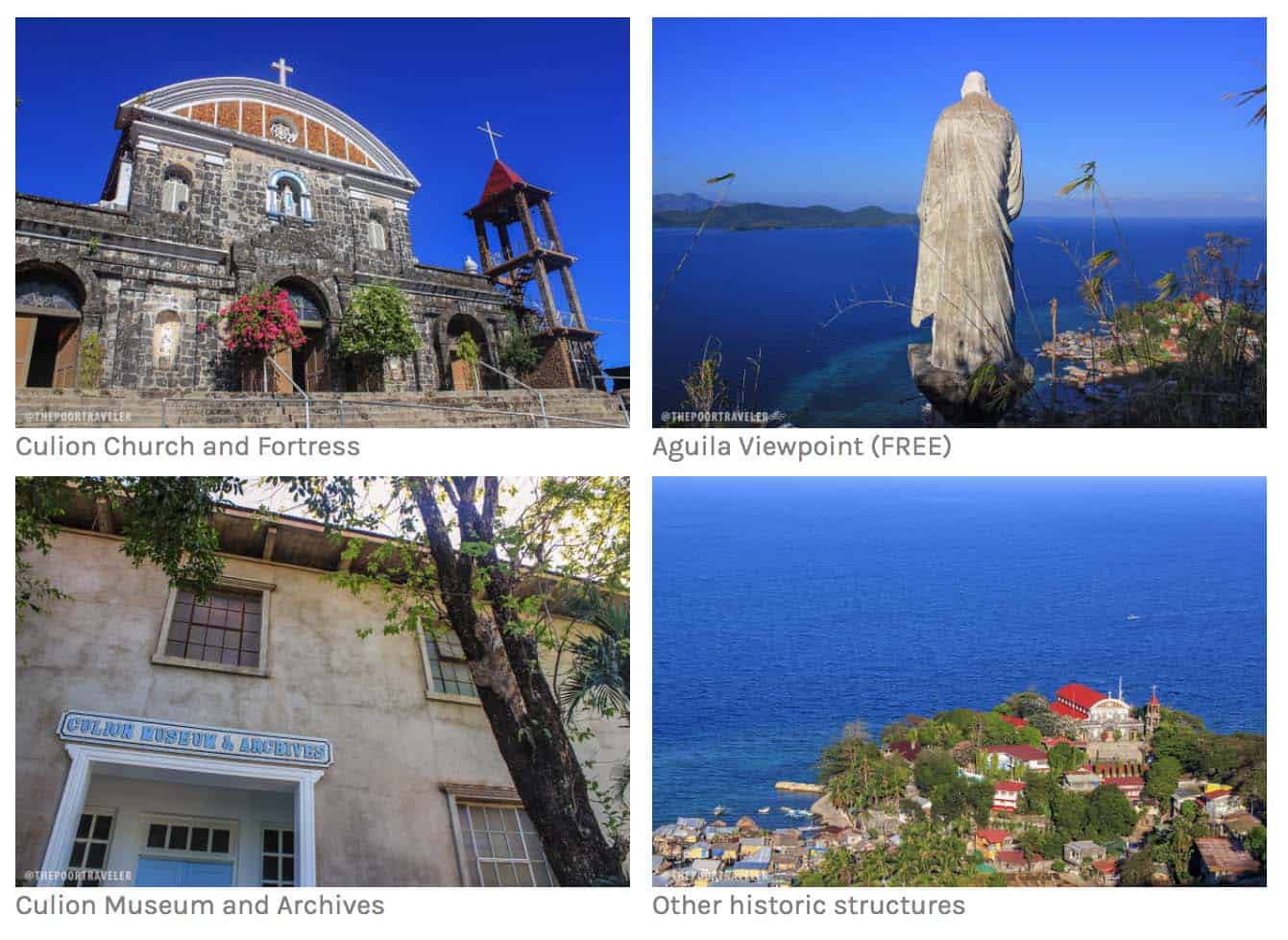 If you're looking for a different kind of trip other than the usual beaches, lakes, and lagoons, Culion is a destination to consider. Some of the attractions of this former leper colony include the Culion Museum and Archives, Culion Fort, and the La Imaculada Concepcion Church. As you explore the town, you'll see vestiges of the leper colony. You can also go up Agila Hill to get to the viewing platform.
Visit this page to learn more about how to do this trip on your own: CULION TRAVEL GUIDE
---
Malcapuya Island Tour
Group Tour: P950-P1,700 per person
Private Boat: P3,500 per 4 persons; P4,500 for 8 persons; P6,000 for 15 persons
➡️ CHECK UPDATED RATES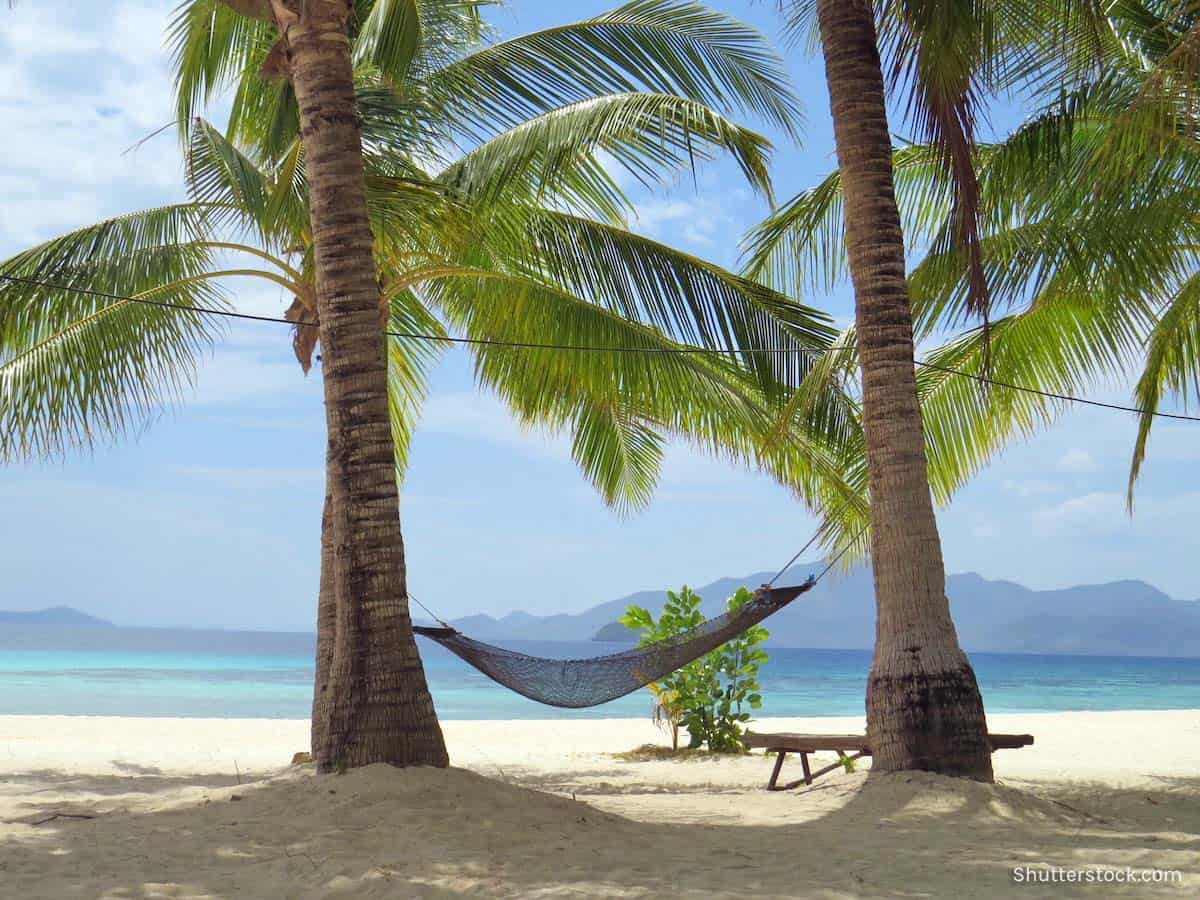 This tour is also known as the Island Escapade Tour or Beaches Tour. The itinerary includes Malcapuya Island, Banana Island, Bulog Dos Island, while some packages also go to Malaroyroy Island.
This excursion is perfect for those who enjoy beach bumming, swimming, and doing nothing on a beautiful island. The islands have fine white shorelines with varying degrees of softness. They are perfect idyllic backgrounds for photos on Instagram or print and online publications. You can spend an hour or so just wading in the waters, getting a tan, taking photos or videos, and enjoying the company of newfound friends or old ones. The beaches are also big enough to find a quiet spot away from the crowds.
Malcapuya is a highlight when doing this tour; the island has powdery bone-white sand and azure waters. There are also viewpoints where you get to see the cove and the surroundings. Bulog Dos is another beach with soft white sand (a recurring cliché in Palawan, but in a good way) and rock formations dotting the shore. Banana Island is just as beautiful as the two with similar characteristics.
The trip to these islands can get bumpy even in the summer; it can also take up to 2 hours.
---
Lusong Shipwreck and Bulog Dos Tour
Itinerary Inclusions: Lusong Shipwreck, Lusong Coral Garden, Bulog Dos Island, Pass Island
Joiner Tour: P1,600 per person
➡️ CHECK UPDATED RATES
This tour is for those who want to see more corals and various fish species during their vacation. The shipwreck is a good place to go free diving or snorkeling, you'll see corals and various fish as well when you get close enough to the wreckage.
---
Sangat Shipwreck Tour
Itinerary includes: Sangat Gunboat Wreck, Decalve Marine Park, Sangat Hot Sprints, Kalitang White Beach
Private Tour: P3,500 for 4 persons; P4,000 for 8 persons; P6,000 for 15 persons
Joiner Tour: P950 to P1,500 per person
Coron has wreck spots where you can see sunken ships during the war. There are also many coral gardens and marine parks that have various, colorful corals and fish. This is a tour you can book to see new attractions you haven't gone to before.
---
Fireflies and Planktons Tour (with Buffet Dinner)
Joiner Tour: P950/person
Inclusions: Buffet dinner, transfers, and guide and kayak fee
Pick-up at 6pm, 9:30pm end of tour and return to hotel
*FYI: you can't book a private tour
We can't help but gush with excitement every time we bring this tour up. We highly recommend you book this excursion during your trip to Coron! The experience was spectacular, stupendous, magical and (insert superlatives here, LOL). We enjoyed the fireflies, but what made the difference were the bioluminescent plankton.
Every time you dip your hand in the waters, it will glow! When our boatman tapped the side of the boat, the waters will sparkle and create a fantastic light show. We were so mesmerized with what was happening. It was too dark to take any decent pictures or videos. Anything captured by a camera doesn't do this tour any justice; it's the kind of thing you'd have to experience.
If you want to do this trip, message this FB Page: Calamian Islands Travel and Tours